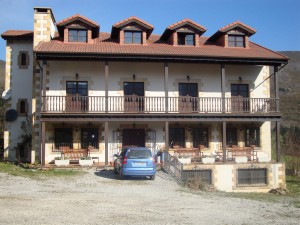 House of Sanctification
San Sebastian de Garabandal, Spain
What is the House of Sanctification?
The House of Sanctification (HOS) is a retreat center built by the Luisa Piccarreta Center for the Divine Will through the generosity of many holy souls. Construction was started in August, 1999 and completed and opened June 1, 2000. The House of Sanctification is a place to learn about the Gift of Living in the Divine Will, the greatest Gift that God can give to mankind as it is the Gift of Himself, of His Divine Will reigning in the soul of man. The knowledge of this Gift was given by Jesus over a period of 40 years to a poor and ignorant soul who had only a first grade education. This knowledge comprised 36 Volumes, which this blessed soul wrote in her diaries, and Jesus named them the "Book of Heaven," The sublime and excellent mysteries contained in the volumes fill the soul with such joy and love of God that it is difficult to contain it and it spills out as light to others. The astonishing marvel is that this knowledge communicated to and lived by this poor, ignorant and sanctified soul, Luisa Piccarreta, was the fulfillment of the Lord's Prayer that the Father's Will be done on earth as in Heaven. Her life and her writings are for the rest of humanity to follow, so that with a proper disposition they may enter into the Reign of the Divine Will on earth as in Heaven.
Where are we?
We are located in San Sebastian de Garabandal, nestled in the Cantabrian Mountains in north central Spain about an hour southwest of Santander, or 40 minutes south of San Vicente de la Barquera, which is located on the coast of the Cantabrian Sea (or the Bay of Biscay).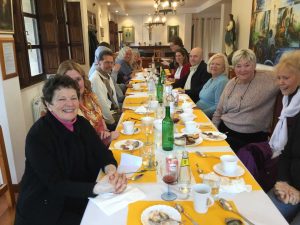 Who are allowed to stay at the HOS?
Groups are welcome to stay up to 10 days, provided they are interested in learning about our spirituality. We are not a hotel, but strictly a teaching retreat house. We welcome all Priests and Religious to stay free of charge. What is our Spirituality? By studying Luisa Piccarreta's doctrine we have found that it describes a union with God more intimate, more perfect and more sublime than anything seen prior to these writings. This is the same type of unity, realized in Mary that the souls in Heaven enjoy with God and which fulfills the ideal that God had when He created Adam and Eve. Jesus came and gave this knowledge to Luisa because, the Holy Trinity has decreed it is now time for mankind to return to the Original State of Justice for which God created us!
What is the Status of the HOS?
The HOS was Consecrated to the Divine Will and to the Immaculate Heart of Mary on the 4th of April, 2000 during a very special pilgrimage to Garabandal to dedicate the House of Sanctification. We opened our doors on June 1, 2000, which was the Feast of the Ascension of Our Lord, Jesus Christ that year, and received our first guest on the 15th of June. This house belongs to Mary, our Mother, and She has busied Herself with bringing Her children here to learn the spiritual life that She, Herself lives. We are a non-profit organization so we exist on donations only. Our suggested donation for a night stay per person is 40.00 Euros, which includes an "enhanced" continental breakfast and a light supper of soup and local bread. The breakfast includes a variety of breads, cheeses and cereal, fruit, coffee, tea and fruit juices. A substantial lunch is served in the village restaurant(s) which is a separate cost of about 13.00 – 15.00 Euros. We are happy to make the reservations necessary at the restaurant(s) prior to your arrival at the House of Sanctification. You are welcome to walk around the village of San Sebastian de Garabandal and go up to the "Pines" and learn all the incredible things that happened during the 4-year period, from 1961 till 1965 that Our Lady appeared to four young visionaries over 2000 times. There are also mountain trails with breathtaking vistas. The solitude and peace of this little village fills your soul, renews your spirit and brings you closer to your Heavenly Family. We invite you to come and visit the House of Sanctification and the little village of San Sebastian de Garabandal, the village of your Mother, Mary! (We also teach about the astonishing prophecies given by Our Lady during the apparitions of Garabandal—because their fulfillment has now become necessary for the universal Reign of the Divine Will on earth.)
Anyone interested may write or call:
The Center for the Divine Will
PO Box 415, Jacksboro, TN, 35775
Phone – 423.566.5178
centerdw@comcast.net