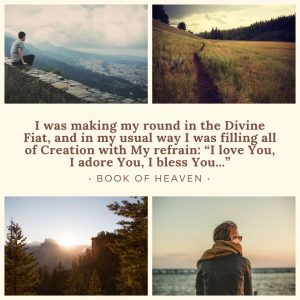 +
Dear Readers – Old and New,
Attached is Part Two of my selected passages form the "Book of Heaven" on the Transformation of Human Activity into Infinite, Eternal, Immense Activity –  Proper to God.
I feel a little disappointed that few of our readers responded  to Part One. What Jesus made known in those passages has never been made known to anyone living on earth since the Fall of Adam and Eve until these times, beginning with Luisa Piccarreta (with the exception of our Heavenly Mother, Mary).
The Fathers of the Councils, including the Council of Trent, knew none of this kind of Transformation of human acts, nor have the great and humble theologians of the past. ( I have a suspicion, however, that Jesus might have revealed some aspect of this to the genius, St. Thomas Aquinas, shortly before his death, which led him to remark, "The end of my labors has come. All that I have written appears to be as so much straw after the things that have been revealed to me."
We now know that this Infinite, Eternal, and Immense transformation of human acts made known to Luisa was taking place in our first parents, Adam and Eve, prior to the Test God had given them on behalf of the human race.
We might ask, is this a new Revelation?  In the proper sense, No. In another sense, Yes.  The Church has always known that Adam and Eve had an original State of Holiness binding them to God, in the beginning, but the Church has never known precisely what this State of Holiness was, as demonstrated by the Fathers of the Council of Trent.  But now, more and more, it is being accepted that the actual Original State of Holiness of Adam and Eve is being understood, and will be even more understood as far as human intelligence is capable to understand, through the words of Jesus given to Luisa Piccarreta and recorded in the 36 Volumes of the "Book of Heaven."
So the fact that Adam and Eve had a lofty State of Holiness in the beginning of human history is not a new Revelation, but the explanation of that Original Holiness, provided to humanity by Jesus, through Luisa, is new to the Church, as God prepares for the coming new, happy Era of the Reign of the Divine Will on Earth as It Reigns in Heaven. The Holy Trinity longs for this, so that Their ideal in bringing forth humanity from Their bosom, will, at last, be realized.      Please add this Attached Part Two to Part One and consider reading them often.
—Thomas Fahy