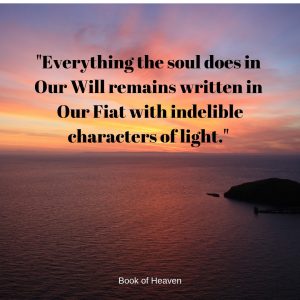 †
More Noble and Glorious Secrets
from the "Book of Heaven"
The Heavenly Father continuously generates His Son, and between the Father and the Son the Holy Spirit proceeds.  They are constantly generating and proceeding.  This is Their Life and is like the heartbeat and breath that forms the life of human beings.
In this continuous generating and proceeding, the Holy Trinity produces immense joys, happiness and delights so great that They cannot contain them within Themselves and they overflow and produce the joy and the happiness of the whole Heavenly Court.
When the Divine Fiat performed the solemn Act of man's creation, how much mastery, majesty, nobility, power and beauty was man created. All Our divine qualities poured themselves out upon man. Each one of them wanted to reveal and pour Itself out in torrents over man, wanting to have fellowship with him.
All of Our qualities set to work: Our light poured itself out upon him to make him its brother in the light.  Our goodness poured itself out upon him to make him its brother in all goodness. Our love poured itself out upon him to fill him with love and to make him its brother in pure love.  Our power, wisdom, beauty, and justice poured themselves out upon him to make their brother powerful, wise, just and enchantingly beautiful.
And Our Supreme Being rejoiced to see Our divine qualities all working together to have fellowship with man—and to see that Our Will lived in man, maintaining the order of Our own divine qualities so as to make him as beautiful and lovely as they could.
Now, the soul who lives in Our Will feels as if she were continuously receiving the Son generated by the Father, and she receives the Holy Spirit Who always proceeds. O how much contentment and joy—how many graces—she receives!  She finds all of Creation in act.
The soul finds in act the Conception of the Virgin, Her seas of love, and Her whole life.  The Virgin makes Her share in all of it—and this soul takes possession of it all, glorifying Us for the great good that We did when We created this Celestial Creature, Mary.
The soul finds the descent of the Word in act—His birth, His tears, His throbbing life, and His pains as well.  We make her take possession of it all—and she receives it all.
This soul glorifies Us and she loves Us on behalf of everyone and everything.  In Our Will, the soul can say: "All is mine, even God Himself—and the Divine Will, too!" Indeed, she feels duty bound to glorify Us and to love Us in each thing and for everyone.
Jesus says: I cannot complete Creation until man comes back into My Divine Will and gives Me My royal place within his will.  We have so many more beautiful things to do—many more things to say inside Our space of the human will—but We cannot say them or do them, because Our Will is missing.
All good things come forth from My Supreme Will, and how all evils enter the field when souls withdraw from the Divine Will.
With My human will united to the Divine, there was not one human act that I did not place in harmony with the Supreme Will.
Suffice it to say that I not only begged for forgiveness, for remission of sins, and for safety, salvation and defense against the great dangers of human life, as I did during My Passion, but I begged for the renewal of his whole interior life.
I had to make the Sun of the Eternal Will arise, to bind man's whole interior life—even down to his most intimate fibers—with its enrapturing power, to lead him to the bosom of My Heavenly Father, to be born again in His Eternal Will.
About Mary:  Indeed, the glory of this Queen is invincible because She possesses Our operating Will, which has the power to form eternal and infinite acts in the soul.
About Luisa:  Now, through another creature—by letting her enter the eternal regions of My Will, by binding her Will to Mine, and by uniting her to all My acts—I make her whole interior rise again in the Eternal Sun of My Will.  And I open this plane to all generations, so that, whoever wants it, can enter into it to put herself back in harmony with her Creator.
About Luisa:  Jesus said: My daughter, one who has been called to a mission, must know the secrets, the importance, the duties, the benefits, the founder, and all that belongs to that mission.
Jesus:  And if, until now, My creatures have enjoyed the blessings of Redemption.  Now they will move on to enjoy the fruits of the "Fiat Voluntas Tua" on earth as it is in Heaven—as well as the lost happiness, dignity, nobility, and all-heavenly peace, which man drove from the face of the earth by doing his will.
A greater grace I could not give him, because by placing him again in relation with My Will, I give back to him all the blessings with which I endowed him at his creation.
The beatitudes of Heaven are poured out upon Earth and deposit themselves in the soul of the person who lives and acts in My Will—because these beatitudes don't want to leave the soul deprived of heavenly joys and happiness—since this soul forms one, single will with Heaven.
While the Blessed swim in the divine joys, they gain no merit. But while on earth, not only do these beatitudes make the pilgrim soul happy, but they add merit—because for one who does My Will on earth, everything is meritorious:  words, prayers, breaths and joys themselves are changed into merit and into new gains.
As the soul recognizes Our Will, she loves It, and wants to make her life in It.  So she pours herself into her God, and God pours into her.  God makes the soul His own, making her take part in all His acts.
We will cover him with Our love again, letting the life of Our majesty, sanctity, power and wisdom enter into Him.  Having Our creature in such disarray dishonors Us greatly, but it will not continue—No!  We will triumph in man, and the sure sign of Our triumph is that We are revealing the wonders of Our Will as well as how to live in It.  Our love and Our Will shall conquer and triumph in everything.
All created things pour themselves upon the soul, to love her with a distinct love which each created thing possesses.  That is why We find in the soul who lives in Our Will the love with which We created the sky, the variety of Our distinct love with which We spangled the sky with stars.
So much is the grandness of one single act of Our Will that it surpasses all possible and conceivable beings; It encloses and embraces everyone and everything.
Now, you ought to know that everything good the soul was supposed to do has been done, formed and fed by Our Divine Will; one could say that her acts existed, exist and will exist in It—they are, as it were, lined up in order, each with its place in Our Will.  What is more, they are first formed in Us, and then, in time, We bring them forth into the light.
Now, upon entering Our Will, the soul finds what is already hers, and We want her to take it; so, the human acts find Our divine acts, established by Us for her.  They rush together—they transform themselves—kissing and locking themselves inside Our divine acts, which are already theirs.  In this way, what is human becomes divine.  And since Our Divine Act is great and immense, the tiny human act feels as if it is dissolving in the divine.
And, as We play with the little atom of the human will, We work such wonders of love, glory, and sanctity as to astonish all of heaven and earth. We feel repaid for having created the soul along with the whole Creation.
Everything the soul does in Our Will remains written in Our Fiat with indelible characters of light.
One act in Our Will is so great that We can do and give everything in and through that act.
My truths form the ladder to climb to God, and when God sees this soul climbing up toward His arms, He feels so much love that He then goes down into the depths of the soul to delight in His truths, and to strengthen her and to teach her how she must live her life in the truths that she has learned.
We can say that the soul and God form a divine society, working together and loving with a single love.
These acts done in Our Will are given divine value.  Each act possesses a new happiness—a new joy—so that the soul can form her own innumerable joys, contentment, and endless happiness.  She can form, for herself, a paradise of delights and blessings in addition to the one that her Creator will give her.
What a joy it is to be able to say: "I myself formed My own Paradise—because the Divine Fiat worked in union with Me."
The power of one act in My Will is so great that it seems incredible.  As you were calling everyone, I felt loved by all; and since you have free will—which is worthy of merit—as you brought forth your act, My Will poured forth from Itself a greater love, glory and happiness, which everyone felt flowing in and around them.  The angels and the saints receive a higher glory and happiness, and feel more loved by God in return—while those on earth receive more help and more graces, according to their dispositions.
All the acts done in My Will receive this great blessing—because My Will belongs to everyone, and everyone has a right to that act.  Since it is the act of a pilgrim soul, who gains merit with every good thing that she does—that merit becomes a common merit, and also a common joy, love and glory.  If you only knew what it means to be loved more by God in return—and the joy and the glory that a God can give—O how much more attentive you would be!
The angels and the saints, who know it, long for your call to receive this great blessing.  And when you don't call them, they all say: "Why is she is not calling us today?"  So, although you are on earth, your merit flies up to Heaven to give new love and new happiness to the heavenly court.
O how I wish that everyone knew what it means to live in My Will!
My daughter, listen to another greater surprise of Our intense love and to the extent of Our loving delirium.  Our Supreme Being loves the soul so much that We even reach the extremity of imitating her.  We make Ourselves tiny, enclosing Ourselves within her.  We want to walk with her feet, work with her hands, speak with her mouth, look with her eyes, think with her mind, and throb and love within her heart.
To do all that the soul does, and the way that she does it, We want to have feet, hands, mouth, eyes and heart like her—and We ask this of her—as if We were not absolute owners.  We say to her: "Let us love each other.  We will give you what is Ours—and you give Us what is yours."
Since We love her so much, We like to imitate her.  This is an immense device of Our love, which only a God can do:  Instead of saying to the soul, "You must imitate Us. You must do as We do," We say, "We want to imitate you, and to do as you do."  In the end, she is Our creature—the work of Our creative hands.  She came forth from Us, from within the power of Our creative love; so no wonder We want to go down within her—to imitate her and to do what she does the way that she does it.  It is simply giving honor to Ourselves and greater importance to Our works.
But We can do this only in the soul within whom Our Will reigns.  In her We can do everything—pour out Our love and imitate each other—since she is completely disposed to do what We want.
Now, listen to another loving surprise that is almost incredible.  Once the soul has given Us the freedom to imitate her, giving Us life within herself—feet, hands and mouth—We call her "Our imitation," and, as We let her enter into Our Divine Being, the power of Our Fiat gives her Its step without feet, letting her be everywhere:  in the angels, in the saints, in the heavenly Queen, even in Our divine bosom.
O how happy We are seeing her no longer surrounded by human nature, but freely united with Us, working without hands and speaking without a mouth—and O how many words she speaks!   With Our Word she tells Us the long story of Our love and of Our operating Fiat.  She feels Our Eternal Wisdom being poured into herself—and O how many things she tells us about Our Divine Being…  And O how We delight in hearing the soul relate what We are!
The soul embraces Us within her soul, and she lets Us do what We do within Ourselves. Then, to take Our delight in her, We make her do what We do, in union with Us.  Do not be surprised.  This is the nature of Our Will and of true love—to unite the soul with Us—to love her and to make her love Us as We love.  Disparities ought not to exist.  Otherwise it would make the soul unhappy to see that We love her so much, and that she cannot love to the same degree.
Acts done in the Fiat are ever new—each one more distinct and beautiful than the other.
You ought to know that when We brought forth the Creation from the bosom of Our Divinity—since it was already within Us from eternity—when We let it go forth from Our Fiat, We also put out, in a sea of love, all that the soul had to do.  In this way, everything came forth from Ourselves, and We offered all that she was supposed to do.  That is why the whole Creation is full of all the works that have to be done, until the last man.
Our Love, enclosing everything within itself—creation and human acts—It waited to bring forth the soul to the light of day, to give her the acts that belonged to her.  Is this not an exuberant love, which only a God could give:  to order and form the acts, and then to bring forth to the light of day the creature who was to use those acts—to produce the sanctity, love and glory for herself and for the One who created her?
Man did not yet exist, and We were already concerned about him.  We longed for Our power, wisdom, love, sanctity and goodness in him, placing Ourselves at his disposal to make him as beautiful as We could, and to say: "You are like Us in everything.  We could not have made you more beautiful than this."
These acts in My Divine Will form an army of new beauties, new love and new sanctity, and We feel enraptured just by looking at them; so, We anxiously wait for the coming of the souls, who, just by possessing Our Will, will be equipped with them and possess them. See how certain it is that the Kingdom of My Will shall come upon the earth. Its acts already exist!
We will be fully glorified only when We will recognize Ourselves in the soul and in her acts.  We can give all, and she can receive all, as long as Our Divine Will reigns.
As soon as the soul will possess Our Will, all her acts—great and small, spiritual and human—will be animated by My Will, so as to rise between Heaven and earth, filling and weaving together the sky, the sun, the stars and the whole Creation. Then they will rise even higher and will invest all the acts of the Queen of Heaven, identifying themselves with them.
The wonders that these acts, done in My Will, produce in the soul are ineffable.  Through them Our Divine Fiat forms seas of love—not murmuring seas, but speaking seas.  They speak about Our love with such eloquence that We like so much that We always want to keep listening.
This is why there is nothing greater, holier, or more beautiful—nothing that glorifies Us more—than living in Our Will.  And there is no blessing greater than this that We can give to the soul.  So, be attentive and follow Me—if you don't want to stop Me from speaking.
The wonders of My Will are unheard-of.  Its power is so great that as the soul acts in My Will, It calls into action all that she has done before, joining it together, and then offering again to each act, its merit, goodness and power, as if the soul were doing it again—enriching it with so much grace and beauty as to delight all of Heaven.
The acts done in My Will are never idle.  They are full of light, love, sanctity and divine sweetness; they feel the need to give light to those who live in darkness; to give love to those who are cold; to give holiness to those who live in sin; to give divine sweetness to those who feel embittered.
And since the acts done in the Divine Will are animated and armed by Its power, they can say: "We can do everything—because an almighty Divine Will gave us life.'"
As the soul gives the Divine Will the freedom to act, It calls Its immensity and power and encloses everyone and everything in that act.
The soul in the Divine Will gives Us the adoration of each one and everything that they owe to their Creator.  She animates everything, and We hear in that act even the sun, the heavens, the stars—all of Creation—saying: "We love You, we adore You, we glorify You!"
Indeed, We receive everything from Our Will working within the soul—Our love for each soul is returned and Our glory is fulfilled.  Our Will can give Us everything, although It uses the act of a soul.
Submitted by Thomas Fahy
Website:  comingofthekingdom.com
Office Telephone: 423-566-5178 for books, literature, questions